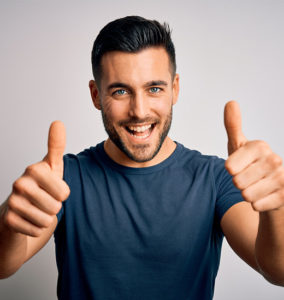 Your regular dental appointments are focused on cleaning your teeth and caring for your oral health. Keeping your teeth healthy is important for your overall health and well being! 
But if you're interested in improving the appearance of your smile, you may want to take your dental healthcare a step further and get some cosmetic dentistry done. Cosmetic dentistry is not medically necessary, but it is becoming increasingly popular as a way to get a brighter, more beautiful smile. 
What Is Cosmetic Dentistry?
Cosmetic dentistry is a branch of dental care that is focused on the appearance of your teeth. Cosmetic dentistry can improve the look of your teeth, gums, and mouth overall. Once you have identified your goals, a consultation with your dentist can help you determine the right treatment plan for your unique situation. 
What Problems Can Cosmetic Dentistry Address?
Every person has a unique smile, so no two mouths are quite the same. Cosmetic dentistry can improve the look of your smile through teeth whitening, putting a cap on damaged teeth, or filling gaps left by missing teeth or misalignment. There is almost always a treatment available for any aesthetic problems you may be experiencing, so ask lots of questions! 
What Cosmetic Dentistry Procedures Are Available?
There is not just one way to get the smile of your dreams. There are a lot of options for cosmetic dentistry, and your dentist can help you figure out which one is the best to reach your goals. Some of the procedures we offer at our office include:
Invisalign aligners.

Invisalign clear aligner trays can correct overbites, underbites, tooth gaps, or overcrowding. 

Teeth whitening.

Get a brighter smile either in the office or at home in just a few sessions. 

Dental crowns.

Dental crowns are caps for damaged teeth. The crown can offer protection for weak teeth, while closely imitating the look and feel of your natural teeth. 

Veneers.

Dental veneers are placed on the front of your natural teeth to create a more uniform smile. Veneers guarantee white, even teeth. 

Bridges.

Dental bridges fill the gaps in your smile left by crooked or missing teeth. Natural-looking and comfortable, bridges can even correct any speech impediments caused by missing teeth and prevent further damage to your mouth. 
Is Cosmetic Dentistry Worth It?
It depends on your goals! You can have great oral health without undergoing any cosmetic dentistry procedures. However, cosmetic dentistry often sets up your mouth for good health going forward, and can be a great boost for a patient's self-confidence.
Procedures like teeth whitening are purely aesthetic, while overcrowding or crooked teeth can make cavities and tooth decay or tooth loss more likely.There are certainly oral health reasons for making corrections. Meet with our team today to discuss your options. 
Benefits of Cosmetic Dentistry
While getting cosmetic dentistry done may not be medically necessary, it does come with plenty of benefits to consider! Some of the benefits of undergoing cosmetic dentistry procedures include:
Increased self-esteem.

A brighter, more even, more beautiful smile.

Looking younger than your years. 

Reduced pain from previously crooked or damaged teeth.

Better overall oral health.
The best way to determine if cosmetic dentistry is right for you is by speaking with your dentist! Our expert team is happy to address any concerns you may have about any procedure or treatment. 
Work With Us for a Smile You'll Love
Our compassionate and highly trained team is ready to help you improve your oral health and the look of your smile! We offer a variety of treatments that we can tailor to meet your goals. Call us today to make an appointment or ask a question about our services.